TMG specializes in pre-owned CNC machines.  Our service experience and our decommissioning skills help us spot opportunities to place used equipment on your production floor.  We are experts in our ability to support the pre-owned CNC machines we sell with our wide range of service including start-up, service, solution integration, and financing.
Brand: Honor Seiki
Type: VL-160C
Age: 13
Condition: Good
Description
VL-160C with Fanuc OI-TD Control
63" Table
Max Turn 78.7"
Max Turn Height 49.21"
W axis Cross Rail 31.49" 4 steps 7.87"
250 RPM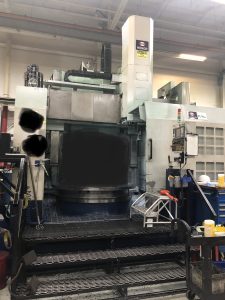 Brand: OKK
Type: KCV-800 5ax
Age: 18
Condition: Good
Description
12,000 RPM
CT-50 Spindle Taper
120.08″ X travel
32.28″ Y travel
28.35″ Z travel
+/- 35 degrees A and B axis
30 tool ATC
Brand: Yasda
Type: H30i
Age: 23
Condition: Good
Description
Fanuc 16iM Control
CT40, 30HP 20,000 RPM Spindle
XYZ Travels: 25.6" x 22" x 22"
A: .001 degrees, B: -120 degrees, +45 degrees
Table Size: 11.8" x 11.8"
Max. workpiece size:
240 Station ATC
32 Station Pallet Pool with controller and (1) load station
Rapid Traverse rates: XY: 2358 ipm, Z 1572 ipm
Max cutting feed rate: XYZ: 787 ipm
Brand: SNK
Type: HPS-120B
Age: 12
Condition: Good
Description
Main Machine Specifications:
CT50, 15,000 RPM, 73HP Spindle
Travels: X= 124", Y= 71", Z= 41"
A-axis (Spindle Tilt): +/-100 degrees
C-axis Rotation: +/-360 degrees (Continuous)
Table Size: 120" x 59"
Max. Table load: 11,000 lbs.
40 Station Tool Magazine
Rapid traverse: X,Z=945 IPM, Y=787
Floor space required (LxWxH): 471" x 323" x 170"
Being the best at new equipment sales is not enough at TMG. Years of experience has helped us develop an effective system for buying, refurbishing and selling pre-owned machinery. The ability to offer refurbished equipment strengthens our client relationships in that they know that we are able to offer a complete array of machining solutions for their manufacturing needs. We are able to offer high values for trade-in equipment due to our large customer base and our ability to do the repairs and refurbishing ourselves.